Welcome
Welcome to the Jason Smith Funeral Chapel online information and resource centre. Our mission is to provide the highest level of personal and professional service within the pleasant surroundings of our new facility. It is our goal to meet the cultural, religious and financial needs of each family that have given us the privilege of entrusting their loved one to our care. This easy-to-use website is another way of expressing our funeral home's passion and purpose of serving others, by allowing each user the opportunity to view a death notice, to leave a personal online condolence, find contacts for local florists and also provides roadway directions to help you find us easily.
Send Condolences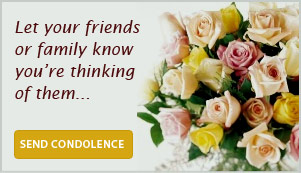 Death Notices
PITRE, Livian
Saturday, May 20, 2017
DICKINSON, Alice "Mary"
Thursday, May 11, 2017
DE JONCKHEERE, Betty
Tuesday, May 09, 2017
HAAK, Karl
Tuesday, May 09, 2017
ELIOT, Alan
Sunday, May 07, 2017
EASTON, John
Wednesday, May 03, 2017
TIMPSON, Lyn
Monday, May 01, 2017
FRANCIS, Grant
Saturday, April 29, 2017
View More