Death Notices
Back to List
Evelyn BAILEY
Saturday January 16, 2021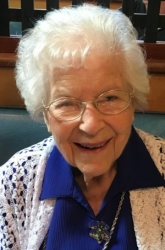 In Memory of Evelyn Mary Bailey, December 1, 1917 - January 16, 2021
Psalm 104:33 "I will sing to the LORD all my life; I will sing praise to my God as long as I live." And she did.
Evelyn was the fifth child born to Eva and Wilfred Traviss of Newmarket, Ontario. She excelled in her classes and in sports at Newmarket High School, a prize for Literature and tennis trophies among her accomplishments. She later worked in the office at Newmarket's Office Specialty.
In 1943 she married the love of her life, Albert Ernest Bailey. They celebrated 71 years together before Albert's passing in 2014.
Evelyn's loving, gracious manner was evident to everyone who knew her, as was her ability to find something to chuckle about, even in difficult circumstances. Her perseverance and courage were remarkable. She wore the unfading beauty of a gentle and quiet spirit. Her love for God and for others is reflected in the lives of her children and grandchildren. That love and faith will be passed on from one generation to another. What a profound legacy!
Cherished mother of Mary Lyn Horvath (Bert) of Calgary, Jay Bailey (Hope Watson) of Simcoe, Susan McElcheran (Tim) of Toronto and the late David Bailey (1971). Loving grandmother & great grandmother to Wendy Wadstein (Roger), children Loren, Teigan & Kaden; Laurelyn Cavilla (Mike), children Caitlyn & Michyla; Rebekah Main ( Greg Swift), children Sydney, Thai, Pablo & Ashreena; Keehan Koorn (Johann); Caris Hamilton (Rob), children Aili & Azlen; Patrick McElcheran (Subrina), Luke McElcheran (Melissa Kawaguchi) and Anna McElcheran. Evelyn was predeceased by her siblings Audrey Cumber, Ruth Hilton, Gordon Traviss and Wilbur Traviss. Evelyn will be lovingly remembered by nieces, nephews & extended family.
The family would like to express their thanks to the staff of Rosewood Senior Living for their care of Evelyn over the past few years. Heartfelt gratitude is also due to Susan Veltri of Victoria Elder Care, whose care and compassion for Evelyn went far beyond the call of duty. She became "family" to Evelyn, particularly during times of COVID lockdowns. Thanks also to the staff of Norfolk General Hospital, especially on the Third and Fourth floors.
A public visitation & memorial service will be held when covid 19 restrictions are lifted. Those wishing to donate in memory of Evelyn are asked to consider the Albert & Evelyn Bailey Educational Fund, Knox College - Toronto, St. Paul's Presbyterian Church, Simcoe or the Canadian Bible Society. Donations may be mailed to the JASON SMITH FUNERAL CHAPEL, 689 Norfolk St. N. Simcoe, ON N3Y 3R3. Personal online condolences at www.smithfuneralchapel.com (519) 426-0199
Send Condolence
|
View Condolences